Please choose one of the following species for individual info and pictures of Ants:


A simple, cheap and an almost lab-quality cage for live ants that we use: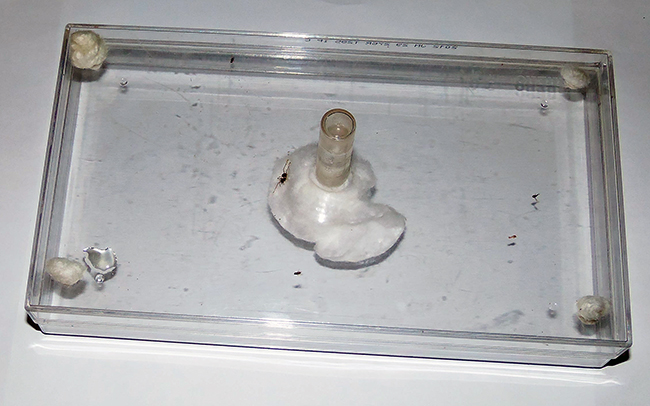 The plastic box is from Ferrero Rocher chocolate. The bottom side is flipped upside-down and the top side fits snugly on. This provides sufficient space for the ants. 5 holes are very carefully drilled, if too much pressure is applied the plastic will crack. Each un-used hole is closed off with some cotton. As the colony expands, small air tube (can get from pet stores or Home Depot) can connect the cages together. In the middle, a slightly larger hole is drilled. One and a half pieces of cotton wipe usually do the trick. Just roll it into a tube, thread it thru the middle hole and fan out the rest which will become Ant's nest. Approximately 3 to 5 inch tall vile can be used. Fill the vile with water and place on top of the piece of cotton that is sticking out. This will keep the cotton hydrated for the ants and their nest.
In one corner of the cage, a source of Sugar must be provided. We use a drop of pure honey. Over time you will need to clean and replace the drop of honey as the ants will store their pray in it which after some time will start to mould. Ants store their food in the honey as it is the only natural substance that prevents mould for a very long time.
Ants also need a source of Protein. In nature, they get it from dead bugs. We feed the live fruit flies which they will hunt and kill. Ants should always have some live fruit flies in the cage, although ones the colony expands to approximately 50+ individuals, the ants will go into a frenzy and kill all of the fruit flies inside of the cage. At this stage, they should be offered 3 to 4 fruit flies every two days. The queen ants do not need the protein, they live of off water and honey until workers start to hatch. As soon as workers hatch, add some live/ dead fruit flies into the cage. It is recommended to add pre-killed fruit flies when there are under 10 workers.